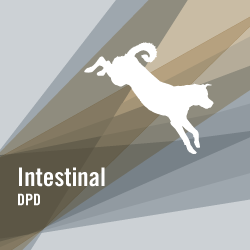 1 June 2021
Due to a shortage of duck as raw material, TROVET Intestinal | DPD wet food for dogs can no longer be produced. Since this will not change in the near future, we will withdraw this wet food for dogs from the market.
We are developing an alternative wet food based on a different protein source. When this product is ready to distribute, we will communicate this on our website.
TROVET Intestinal | DPD dry food will still be available for the time being, with duck as the only animal protein source. We advise our customers who need a hypoallergenic wet food for their dog, to replace the DPD for another wet food with a different protein source, but with the same carbohydrate source (potato). Preferably choose a protein source that the dog is unfamiliar with. The following wet food products can be used as an alternative:
– Hypoallergenic (Horse) | HPD
– Hypoallergenic (Insect) | IPD
– Hypoallergenic (Turkey) | TPD
– Hypoallergenic (Venison) | VPD
When the dog is not allergic to the protein sources chicken and pork, TROVET Weight & Diabetic | WRD wet food is also a suitable replacement for dogs with gastrointestinal problems. This wet food contains extra fibers, like the Intestinal | DPD wet food, for a better stool.
We sincerely apologize for the inconvenience.