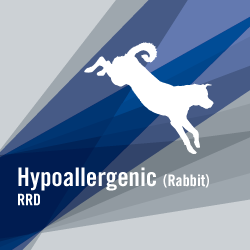 1 June 2021
Due to a shortage of rabbit as raw material, TROVET Hypoallergenic (Rabbit) | RRD wet food for dogs is currently out of stock.
We will transfer this product to another producer who is able to get this raw material. When we have more information when this product is available again, we will inform you.
We advise our customers who need a complete hypoallergenic wet food for their dog, to (temporarily) replace the RRD for another complete wet food with a different protein source. Preferably choose a protein source that the dog is unfamiliar with. The following wet food products with one animal protein source can be used as an alternative:
Same carbohydrate source as the RRD (rice):
– Hypoallergenic (Lamb) | LRD
Other carbohydrate source (potato):
– Hypoallergenic (Horse) | HPD
– Hypoallergenic (Insect) | IPD
– Hypoallergenic (Turkey) | TPD
– Hypoallergenic (Venison) | VPD
Another option is to stick to the protein source rabbit and choose for Unique Protein (Rabbit) | UPR in combination with a carbohydrate source and a vitamin and mineral mix: TROVET Balance | VMS.
We sincerely apologize for the inconvenience.