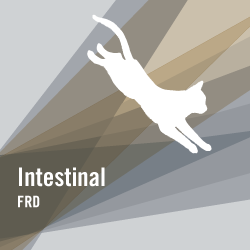 17 October 2019
The composition of TROVET Intestinal | FRD wet food for cats will change on a short term.
In several raw material deliveries, the fat content of the main ingredient, salmon, turned out to be too high. In order to achieve the required nutrient values ​​for this diet, we decided to replace salmon with cod. The other ingredients of the product remain the same. The functionality of the product will also stay unchanged.
The change means that the feeding advice has been adjusted upwards by approximately one third.
The modified product will be delivered, starting from 43. On the labels of the product with the new recipe, salmon has been replaced with cod as the first ingredient. The trays with the new product contain a yellow sticker to alert the user to the adapted nutritional advice.