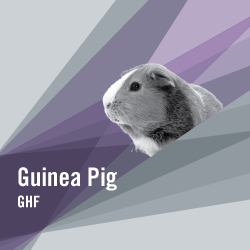 6 November 2017
New packaging sizes
From this week, we introduce two new packaging sizes of TROVET Guinea Pig | GHF. The new packaging will be a bag of 1.2 kg and a sample bag (40g). The 275g bag will be discontinued.
Packaging colour 2.5 kg bag
The 2.5 kg bag will continue to exist, but has been remastered. Unfortunately, during the production of the bag, the dark purple area has been printed light purple. To prevent running out of stock, the misprint is accepted. From spring 2018 onward, the 2.5 kg bags with the original purple colour will be distributed again.